Back to Journal
The Bach Players' musical offering – questions and answers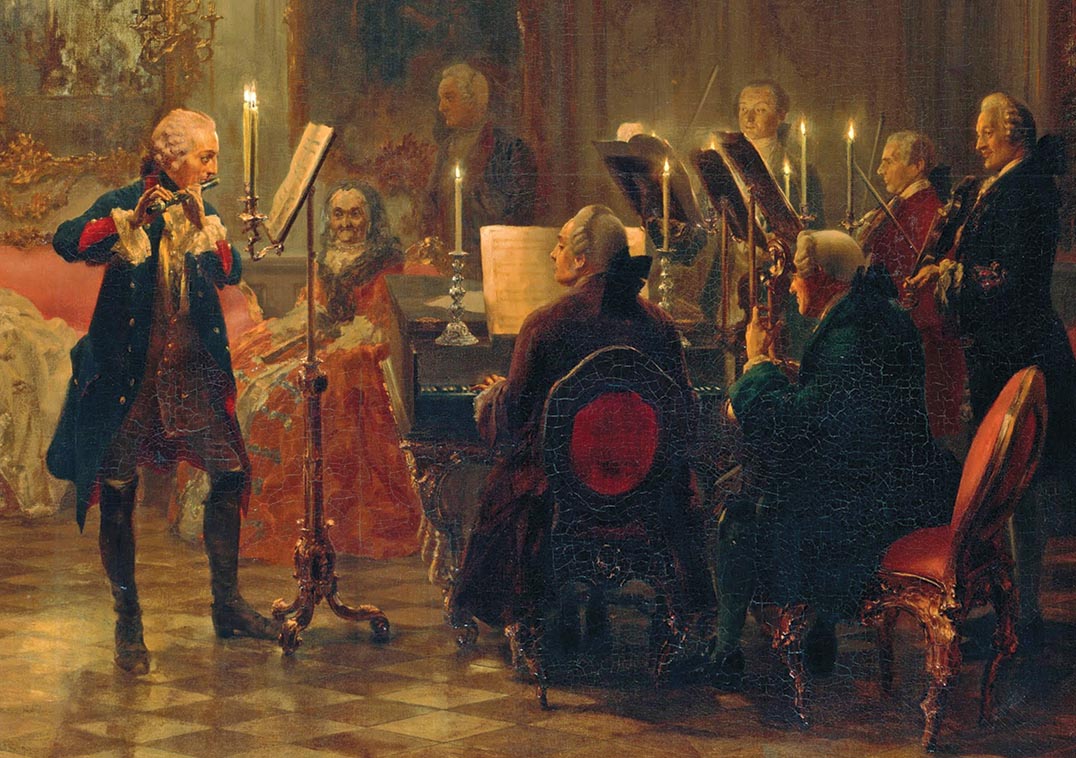 Ahead of our Musical Offering concert at St John's Smith Square, Sean Morris from St John's conducted an interview with Nicolette Moonen. We give the transcript here.
SM: The Bach Players are widely known now as a flexible ensemble, full of instrumentalists and vocalists as capable of performing quartets as they are cantatas and masses. But, as founding director, what initially sparked your imagination for creating The Bach Players and exploring the rich canon of seventeenth- and eighteenth-century music?
NM: Initially my idea was to make programmes with only music by Bach centred around the Cantatas. We started in 1997. At that time I felt that little attention was given to Bach's Cantatas. This somehow changed in the Bach anniversary year 2000.
Gradually I started exploring different composers in relation to Bach. I wanted to show that Bach wasn't a genius who had sprung out of nothing. He was very interested in and influenced by the music that preceded him and that went on around him. Although he didn't travel very much himself, scores from abroad were brought to him. He had a very extensive library of music.
I have always had a penchant for the French composers. These French composers then started living a life of their own and I now often make programmes with only French music. Recently we have even added two dancers to this!
SM: As a group performing period music, you are inevitably advocates for practising 'Historically Informed Performance'. For our regular audience members, could you give us a little insight into the thought process behind the decision to employ period instruments, and the subsequent musical effect this has in comparison to modern instruments?
NM: I have rather made a point of not mentioning that we play on historical instruments in our programmes. So, string players play violin and cello, not baroque violin and baroque cello. After all that is how these instruments were called at the time. I like the instruments to speak for themselves. And the London audiences are now very familiar with period instruments: they hardly need to be persuaded. I think that when we perform this repertoire the sound of original instruments, or copies of them, is simply more interesting than the sound of their modern equivalents. The old instruments are less homogenized, have more colours, and are also more vulnerable. They mix better with each other. Ultimately it is a personal preference: I like the sound of pure gut strings, and of wooden wind instruments.
But the instruments are just tools. What is much more important is to play in an HIP style. This means treating the musical language literally like language, with everything that we use in language: articulation, phrasing, expression, emphasis, etc. Music should become like a speech.
SM: Throughout your recorded albums, it is clear to see that you enjoy curating programmes that bring together in a wonderful way works and styles that one might traditionally not think of: Every one a chaconne puts Bach and Purcell together; Italy versus France has a programme in its title; Nun komm! explores French overtures written by German composers. Even your latest album is surprising, in focusing on the works of Élisabeth Jacquet de La Guerre, whom I'm sure many of us have never heard before. What inspires these decisions that create such exciting programmes?
NM: The examples that you give all have one theme in common: the French style, and, in the case of Jacquet de La Guerre, the Italian style through the eyes of a French composer.
This subject has my special interest, maybe because I am half French. The French style that originated in the court of Louis XIV travelled all over Europe. The various countries and composers made it their own. So, in Everyone a chaconne we find the French chaconne form in two of Bach's Cantatas and in Purcell's chaconne.
SM: Of all the 13 albums you have recorded, which has been the most enjoyable to work on? Does any one stick out as a project of love laboured?!
NM: All of them! Every single one of them was a project of love laboured. I would immerse myself totally in one theme and live with it for the duration of the project. Sometimes a project took a few years from start to end. Then I had to let go of that particular subject and threw myself into the next one. I am afflicted with a kind of tunnel vision when I work on a project. I forget that anything else exists until I come out of the metaphorical tunnel!
SM: Moving to this concert. You will be performing works by Buxtehude, Telemann, and Bach. You have previously explored the relationship between the seventeenth-century Buxtehude and J.S. Bach in your album Sleepers awake! through the medium of the cantata, but what has led you to bring Telemann into this programme: what is it you hope to explore with our audience on the 18th of October?
NM: By juxtaposing Buxtehude and Telemann we bring together two composers whom Bach knew personally. Telemann was a good friend of Bach. He was even godfather to Bach's son C.P.E. Bach. But the two composers are friends from different times in Bach's life. They represent two different musical styles. Buxtehude represents the earlier years and Telemann the more mature years. With Telemann's Paris quartet we also shine a light on the flute, at that time a relatively modern instrument that didn't yet figure in Buxtehude's compositions. Frederick the Great was an avid flute player. It is no coincidence that the Musical Offering has an important role reserved for the flute! I like to show with this programme how Bach was exposed during his own lifetime to an ever changing musical landscape. The Musical Offering is one of the last major works that he wrote. In this work he looks both backwards and forwards musically. You can say that he sums up his musical journey.
SM: Everybody loves Bach, and everybody loves Bach's music, but tell us, what makes the Musical Offering so special in his output? What is it that audience love so much about this Theme Regium, 'the King's Theme', given to Bach by Frederick the Great?
NM: I think that the story surrounding the origin of the Musical Offering, with Bach improvising on a theme given by Frederick the Great, appeals to our imagination. And then there is Bach's dazzling skill and talent to use this theme in so many ways, sometimes in the foreground, sometimes in the background, sometimes straight, sometimes upside down, etc. It can be like a treasure hunt for the audience: look for the theme!
SM: Softball question: what is your all-time favourite work by Bach? Is it possible to choose?
NM: It is the piece that I am working on at any given moment. I go into tunnel vision again, I am afraid … So at the moment it is the Musical Offering.
SM: Finally, with this programme, what is it you would most like an audience member at SJSS to take away from this concert?
NM: I hope they will feel emotionally touched and intellectually stimulated and in awe of Bach's genius. And I hope they come away with the theme of the Musical Offering as an ear worm!