Back to Diary
Sound the trumpet!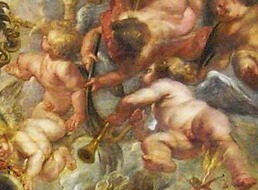 Thursday 5 October 2017, 7.30pm
The Octagon Chapel, Colegate, Norwich NR3 1BN
To mark our twentieth anniversary, we return to our beginnings to present an all-Bach programme: two joyous, well-known cantatas, complemented by two celebrated instrumental works. 'Weichet nur betrübte Schatten' is a wedding canata for solo soprano voice; 'Jauchzet Gott' gives virtuosic parts to solo soprano and trumpet. The trumpet is featured also in Brandenburg Concerto no. 2. We will also play selections from the Art of Fugue. This will be a special, celebratory event.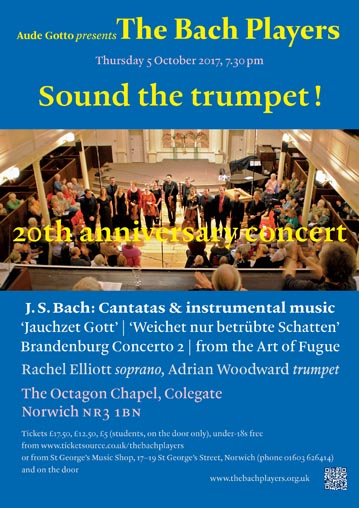 The music
Johann Sebastian Bach (1685–1750):
Brandenburg Concerto no.2, BWV1047
Cantata 'Weichet nur betrübte Schatten', BWV202
a selection of fugues from the Art of Fugue, BWV1080
Cantata 'Jauchzet Gott in allen Landen', BWV 51
The musicians
(Rachel Elliott soprano, Adrian Woodward trumpet, James Eastaway oboe, Inga Maria Klaucke bassoon / recorder, Nicolette Moonen violin / director, Oliver Webber violin, Sarah Walsh violin, Rachel Stott viola, Olaf Reimers cello, Silas Wollston organ / harpsichord)