Back to Recordings
Musical offering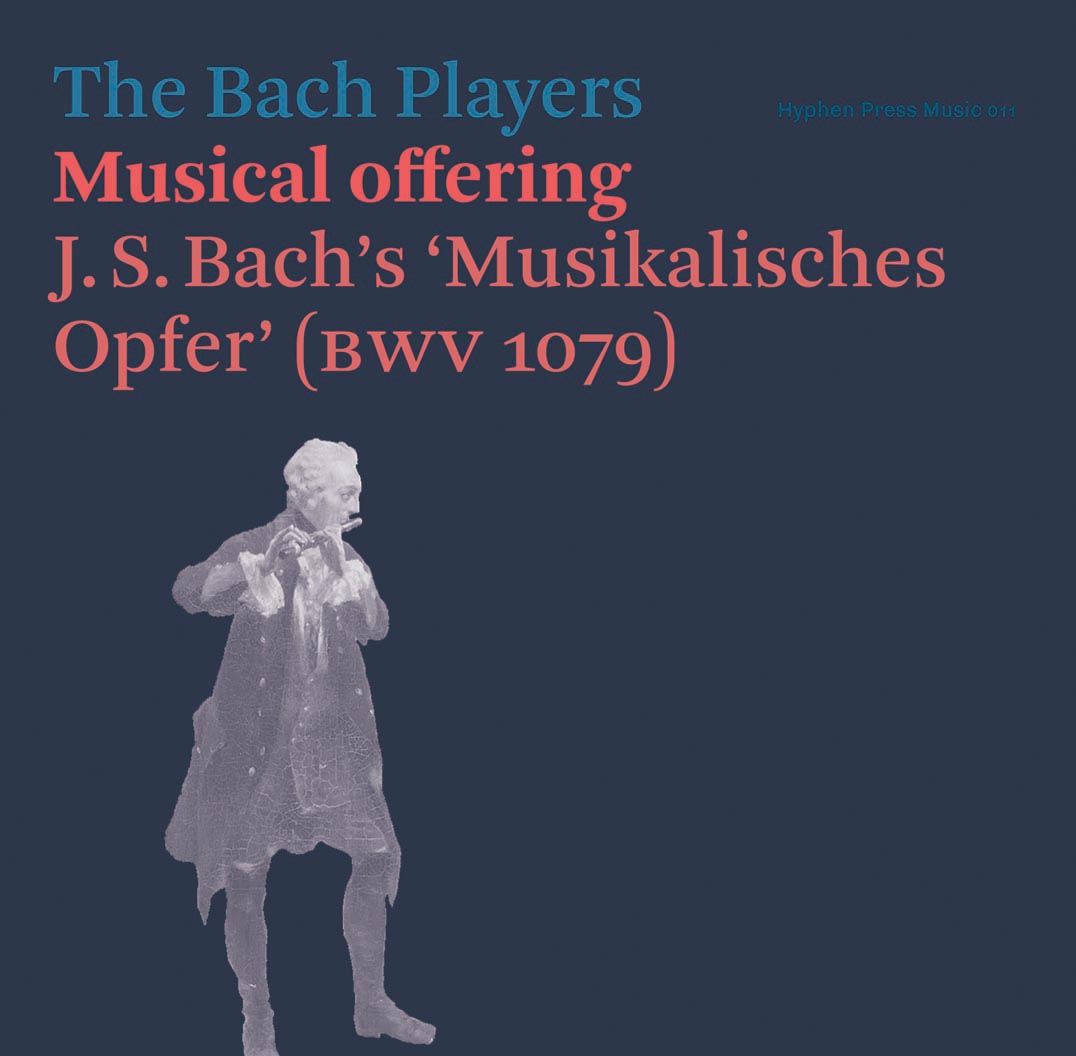 Update Required
To play the media you will need to either update your browser to a recent version or update your
Flash plugin
.
Update Required
To play the media you will need to either update your browser to a recent version or update your
Flash plugin
.
sample 1

Part of the Buxtehude's sonata no. 6 in D minor for violin, viola da gamba, and basso continuo, BuxWV 257

sample 2

The last movement (allegro) of the sonata from Bach's Musical offering, BWV 1079

playing time

54:13
The orator and the musician have essentially the same aim: namely, to make themselves masters of the heart of their listeners, to arouse or still their passions, and to transport them now to this sentiment, now to that. Thus it is to the advantage of both, if each has some knowledge of the duties of the other. (Johann Joachim Quantz)
This recording brings together two wonderful demonstrations of the art of rhetoric: a trio sonata by Dieterich Buxtehude and J. S. Bach's Musical offering. Bach's work, written for and dedicated to the flute-playing Frederick the Great, is among his most haunting and enigmatic. The movements are played here not in the order often employed, but in a sequence that reflects their rhetorical unfolding.
The music
Johann Sebastian Bach (1685–1750): 'Musikalisches Opfer', BWV 1079
Dieterich Buxtehude (c.1637 – 1707): Sonata no. 6 in D minor for violin, viola da gamba, and basso continuo, BuxWV 257
The musicians
The Bach Players:
Marion Moonen flute
Nicolette Moonen violin
Reiko Ichise viola da gamba
Silas Wollston harpsichord
Recording & production
Producer: Roy Mowatt
Recording engineer: Alan Mosley
Editing and mastering: Nicholas Parker
Recorded at St Michael's Church, Highgate, London, April 2015
Presentation
The accompanying 16-page booklet includes an essay 'Bach the orator' by the keyboardist Silas Wollston, arguing for the approach to the performance adopted in this recording. There are photographs of the musicians in the recording and a note on the painting from which the cover image comes. The CDs and booklet are held in a packet made of card and without plastic.
Reviews
The Bach Players' … latest contextual exploration of the music of Bach, alternating trio sonata textures with solo harpsichord, and prefacing Bach's music with a wonderful D minor sonata by Bach's idol, Buxtehude, which shows where Bach might have learned some of his ideas of musical rhetoric. … excellent notes as well, reminding us that there are all kinds of combinations of instruments on which Bach's fugal exercises might have been performed.
Andrew MacGregor, CD Review, BBC Radio 3, 18 June 2017
Each of the players in Nicolette Moonen's group (flute, violin, gamba and harpsichord) is confident without being exhibitionistic and the clarity of the recording in a sufficiently yeilding acoustic is a tribute to the seasoned producer, Roy Mowatt, and the editor, Nick Parker.
David Stancliffe, Early Music Review, 29 June 2017
the musical realization is extremely successful. Marion Moonen (traverso flute), Nicolette Moonen (violin), Reiko Ichise (viola da gamba) and Silas Wollston (harpsichord) play with flawless technique and beautiful tone, are very clear in their contrapuntal analysis, and – at the same time, where it is appropriate, do justice to the music – partly virtuosic, partly expressive in character. In the third movement of the trio sonata they show very beautifully how the old Bach presented his sons with a model piece in the 'empfindsamer' style; while in the Buxtehude piece the spirit of the stylus fantasticus is audible. Highly recommended!
Matthias Hengelbrock, Bach Magazin, Herbst/Winter 2017–18