Back to Reviews
'An Italian in Paris' reviewed in International Record Review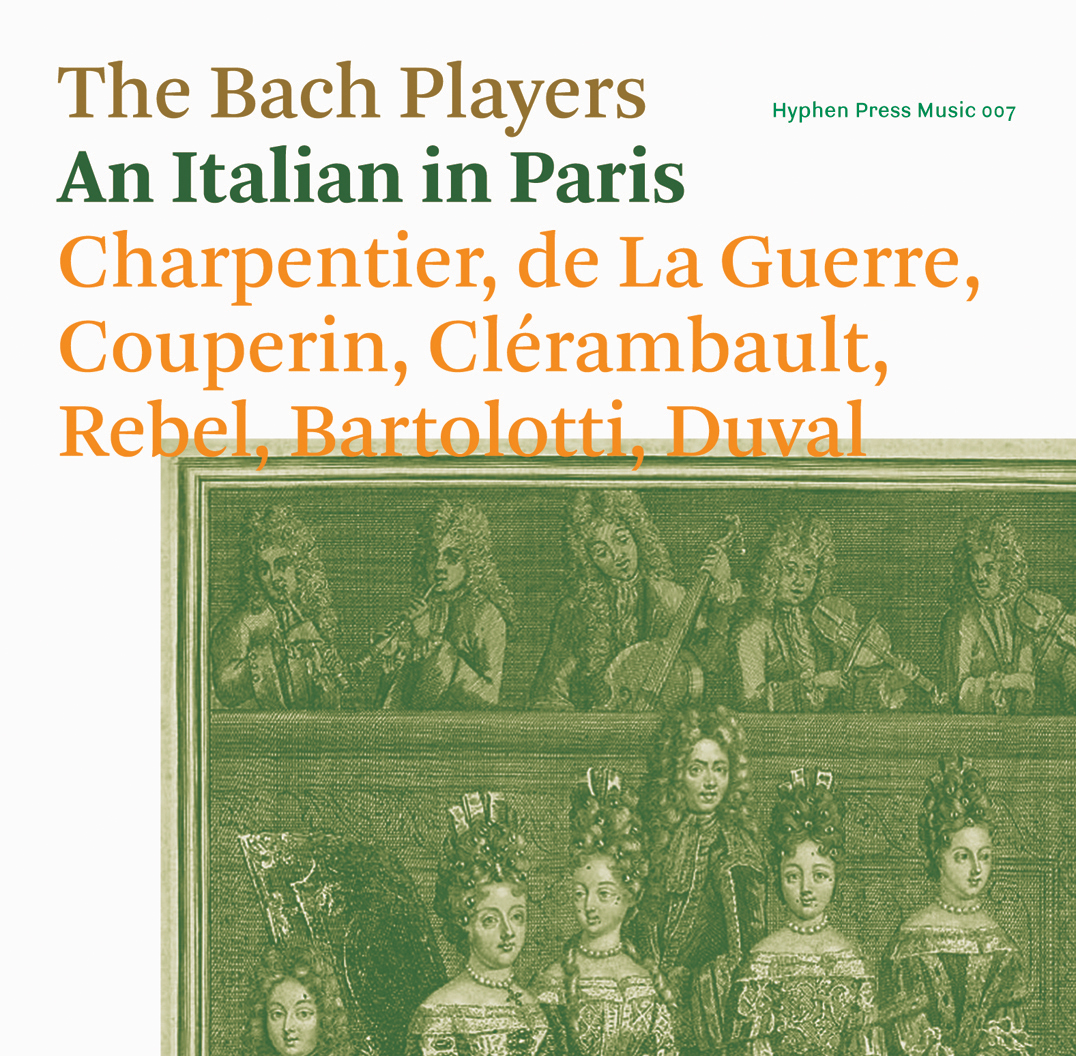 Christopher Price reviewed our CD 'An Italian in Paris' for International Record Review.
Given the particular interest of their founder director, Dutch-French Baroque violinist Nicolette Moonen, in the French Baroque, it is natural that the focus of The Bach Players has expanded beyond their original object of the Leipzig master and his circle. This recording, their seventh, examines how the Italian style, from practically clandestine beginnings, gradually won acceptance in France (or more precisely Paris) during the last two decades of the seventeenth century to the point where French composers were even able to publish 'Italian' sonatas. In her lucid programme notes, Catherine Cessac recounts François Couperin's 'confession' in the preface to his collection of sonatas, Les Nations, that, for fear of 'the harshness of the French for foreign novelties', he initially presented his earliest Italianate sonata La Pucelle ('The Maiden' – renamed La Françoise in the collection) to the public in about 1692 under an Italian pseudonym by rearranging the letters of his surname.
Fittingly, La Pucelle, 'the first [sonata] composed in France' (according to Couperin), opens the programme. It concludes with a work that, in fact, may have been composed earlier: Marc-Antoine Charpentier's Sonata in C major for eight instruments (H458). Charpentier studied in Rome with Carissimi and French contemporaries criticized him for his Italianate style. Couperin and other French Italophiles were predominantly influenced by Corelli's trio sonatas for violins, an instrument traditionally regarded in France as unsuitable for gentlemen and reserved for orchestral music and dancing. Charpentier's sonata is very different: twice as long with nine instead of four movements (the final two a 'Passacaille ' and a 'Chaconne') in four rather than three real parts for pairs of violins and (more socially acceptable) transverse flutes, a viola da gamba on the tenor line and a basse de violon (a cello-like, five-stringed member of the violin family used exclusively in France) on the bass line. Despite occasional agile passages for the violins reminiscent of the Italian virtuoso style and a récit for the basse de violon in an older Italian style (think Marini or Fontana rather than Corelli), it is considerably less Italianate than La Pucelle.
However, La Pucelle and the other sonatas on this disc reveal that the Parisian composers spoke Italian with a strong French accent; so much so it can be difficult to discern much Corelli at all – especially as performed by The Bach Players. The ensemble's manner is decorous and refined, focused on beauty of tone, grace and fluid articulation: in short, very French. While the chosen tempos are not slow or staid, even the most agitated movements stop short of Italianate fire and impetuous virtuosity. The delicately textured, almost velvety violins and slightly reedy bass instruments are complemented by impressively full-sounding flutes. Besides their role in the Charpentier, these last, accompanied by Lynda Sayee's liquid theorbo and Reiko Ichise's gentle viola da gamba, perform the only two purely French pieces in the programme, the Chaconne attributed to Jean-Baptiste Lully in the Toulouse-Philidor collection and the Prélude in E minor from the same source, also attributed to Lully but in fact by Marin Marais.
The rest of the programme features one or both of the violins, usually with the harpsichord prominent in the basso continuo team. The most Italianate work is the E minor Sonata no. 4 from Jean-Féry Rebel's Sonates pour le Viollon, Livre II (1713), with its dramatic contrasts, vocally conceived phrasing and virtuosic writing for both the violin and accompanying bass viol; though it still lacks the impassioned lyricism of the Italians. Moonen or her fellow violinist Oliver Webber (the booklet does not disclose which) performs it with plenty of character, applying flexible articulation and stylish ornamentation, without compromising French bon goût. Equally engaging is the performance of Louis-Nicolas Clerambault's catchy 'sonata', in reality a Chaconne, for solo violin and continuo, which benefits from a brighter, more clearly etched violin tone. Elisabeth Jacquet de la Guerre' s Trio Sonata in C minor brings a slightly darker, more complex mood to the recital.
In the midst of works à l'italienne, there is one by an Italian writing in French style: a lengthy Chaconne in C major from a suite for Baroque guitar by Angelo Michele Bartolotti, which Sayce dispatches with authority at a rather virtuosic pace. It nicely eases the transition from Francois Duval's comparatively robust solo violin Suite in G major to Charpentier's very different work.
The sound engineering is good, ample and balanced with plenty of detail and judicious placement of the individual instruments. Perhaps the recording venue (the neo-Gothic St Michael's Church, Highgate) is a little too reverberant, but it imparts an attractive extra bloom to the instruments.
This is a seductive disc that I have found hard to remove from my CD player.
International Record Review, October 2014