Back to Reviews
'Sound the trumpet!' reviewed in Early Music Today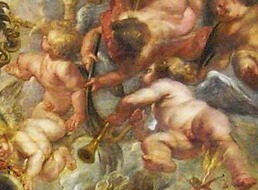 Rick Jones wrote about our concert at St John's Downshire Hill, 7 October 2017, for Early Music Today
To celebrate 20 years of phenomenal success, the Bach Players performed an emotional all-Bach programme at their two favoured venues in October. Led by Dutch violinist Nicolette Moonen, the ensemble has engendered in audiences and performers the same loyalty it has shown to them in thrice-yearly dates at these intimate auditoria and now commands a nationwide fan-base.
The triumphant blaze of Brandenburg Concerto no.2 opened the concert. Adrian Woodward achieved a roar of approval for his mastery of the valveless natural trumpet, little more than a brass tube with holes. Technology has eased the effort of brass playing over the centuries but Woodward's gentle brilliance, squealing trills and steady runs had the original raw appeal of a dangerous high-wire circus act. No one ever deserved more his slow-movement rest, during which oboe, recorder and violin soloists seductively caressed the ear.
Soprano Rachel Elliott, who has sung with the group since the beginning, performed Bach's wedding cantata 'Weichet nur' with the joy and trepidation of a young bride. The voice is light, flexible and expressive. She intertwined with the radiant oboe in the opening movement, their long notes beaming like the sun through the busy preparations. Her plaintive recitative was solemn as a vow as she sang of 'zwei Seelen, einen Schmuck' (two souls, one jewel) before the rustic duet of bassoon and oboe illustrated this in her utterly delightful three-time skipping aria.
Post-interval, the four strings played the opening movements of Bach's Art of Fugue. Moonen, a charming speaker, explained the music with clarity, brevity and wit, a Bach Players hallmark. The concert concluded thrillingly with Elliot, Woodward and the ensemble performing the cantata 'Jauchzet Gott' (praise God), its sacred hub the chorale cantus firmus 'Sei Lob' (be praise) nestling like a golden nugget at the heart of the mine.
Early Music Today, December 2017 – February 2018