Back to Reviews
The Bach Players at The Octagon Chapel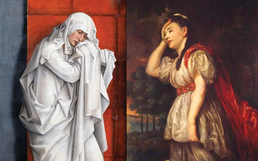 Christopher Smith wrote about our Octagon Chapel concert, 3 March 2016, for the Eastern Daily Press.
Welcome back in Norwich again. Nicolette Moonen's Bach Players performed fascinating and largely unfamiliar music in a delightfully intimate style. With the title Laments for Passiontide, the recital was naturally serious, but the atmosphere was never gloomy.
String sonatas by Johann Schmelzer, one of them a lament for the Emperor Ferdinand III, formed a suitably austere framework for a spiritual canzonetta by the seventeenth-century Italian composer Tarquinio Merula. Its Italian text artfully combined a mother's lullaby with the Virgin Mary's forebodings of her Son's passion. With her focused voice, Rachel Elliott found the right response to both aspects without exaggerating either.
Passions ran more powerfully in her heart-rending interpretation of Ariadne's Lament, a compelling example of Monteverdi's best operatic manner in recitative and aria.
Written in Vienna, not Venice, and showing Vivaldi in an unusual light, his Symphony at the Holy Sepulchre had a sombre mood suitable for Good Friday. It made a good introduction to Joseph Haydn's solo cantata Ariadne in its revised form on the theme of Mary searching for her Son.
Aided by expressive supporting accompaniment, the soprano again caught the spirit of quite a lengthy emotional text, this time in Latin, to bring to an end a quite unusual programme.
Eastern Daily Press, March 2016